Why buy Scantron forms?
Many schools buy Scantron® forms for their students. At some colleges and universities, students buy scantron forms in the bookstore or from vending machines on campus. For decades, these testing sheets have been synonymous with midterm and final exams.
Scantrons yesterday and today
Innovative at the time (the 1970's), Scantron "gave away" test scoring machines (i.e., the TSM Program) with a minimum purchase commitment of 882-E scantron answer sheets. To grade, the TSM scanner marks incorrect responses on the 882-E. Unless an instructor returns the forms, which can cause problems with cheating, there is no feedback to students. After scanning the answer sheets individually, faculty enter scores into a gradebook manually.
Some campuses have students buy custom scantron answer sheets scored with scanning software, such as ParScore. Predictably, there's a last-minute rush to buy scantron forms before midterms and finals. At UCI, right next to our office, long lines form at vending machines at exam time. After the test, lines and waits occur too, but this time for faculty or TAs to process exams. At many campuses, professors schedule appointments to use the scanning software to score and analyze their test. After processing, the instructor uploads the exam data to the schools LMS from a CSV file. This process can take several hours and often requires IT support.
At other universities, the school purchases the answer sheets for students and a scoring service scans exams for faculty. The scanners and software employ proprietary technology developed in the '70s. Exam scanning centers process tens of thousands of answer sheets each term. Often housed in Information Technology Services, scantron processing is labor-intensive and errors are difficult to resolve.
Transforming scantrons with digital workflow
My wife and I recently closed the sale of our house. I couldn't believe how the manual, paper-based processes for closing mortgages has been transformed by converting and processing paper as PDFs. Electronic signatures (in this case, DocuSign®) had simplified the process for lenders, agents, sellers, and borrowers with seamless integration, user-friendly signing, premium security, and delivering a best-in-class experience.
GradeHub is like DocuSign, but for universities using scantrons.
Running the scanner and forms business at Scantron, I wanted to provide universities a smarter way to grade answer sheets. By leveraging the latest cloud technology and security, digital workflow, deep integrations with your LMS, and processing answer sheets as PDFs, GradeHub saves administrators time and provides faculty a better experience.
Why use proprietary scanners and buy Scantron forms when so much has changed since 1970?
Grading answer sheets couldn't be faster, simpler, and easier to support than GradeHub done all within Canvas or Blackboard. Courses, rosters, exams, and grades sync automatically. Instructors can create GradeHub exams within Canvas or Blackboard, print from and upload answer sheets with PDFs, analyze results, and transfer scores to their grade book all within their LMS login. You can use any scanner too.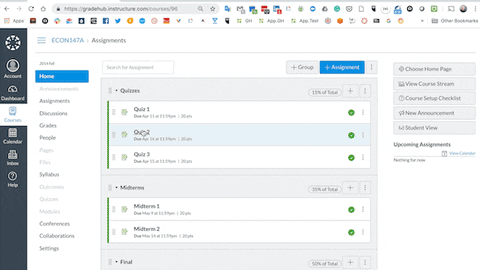 We are looking forward to the opportunity to help you provide an exam scanning solution that is welcomed by faculty and students. To learn more, email me or schedule a meeting on my calendar.
We're here to help,
Mark from GradeHub
DocuSign and Scantron are registered trademark of DouSign Inc. and Scantron Corporation, respectively.